9:19 am -October 23rd, 2016 by admin
Table of Contents
The Abyssinian Guinea Pig is truly a unique species of guinea pigs that have awed many people all around the world. They aren't the American guinea pigs you would imagine when you first think of these animals, but rather something slightly more exotic. They're perfect for those that don't want a common guinea pig but also don't want something too unusual.
Why the Abyssinian Guinea Pig is Unique
They are known for their unusually rough coat with tufts, called rosettes. The Abyssinian has about 6 to 8 rosettes throughout its body, including the back and both sides. The only places rosettes are absent are their bellies and heads.

The perfect coat for this species includes evenly formed rosettes with a distinct center and without any excess hair coming out of it. The reason why the Abyssinian will have an even number of rosettes is because this feature should be formed symmetrically. A perfect coat will have rosettes on the right and left shoulder, four or two along the back and one of each side of the hips. The edges of the rosettes will ideally be clear indicators of where each rosette starts and ends.
So if you happen to pick up a beautifully symmetric Abyssinian guinea pig with 8 rosettes, you may want to consider showing off your pet (if time permits). There are many guinea pig shows and competitions all over the world, and many of the contestants are Abbys. But if the fur is not as ideal, don't worry. They will love you just as much as an Abyssinian with a perfect coat.
Up close with two baby Abyssinians:
Where the Abyssinian Cavy Came From
Perhaps one of the oldest breeds, the Abyssinian guinea pig has been around for centuries.Their origin goes so far back that nobody really knows where their name came from.
A geology wiz may guess that they come from the historic region of Abyssinia, which is now called Ethiopia. However, that is far from the case. This breed is nowhere to be found around that region, which completely debunks the common misconception that they were discovered in Abyssinia. But the name would make a lot of sense if they did come from that region.
All domesticated guinea pigs that you see today come from South America, which would explain why ancient South American tribes worshiped these animals. The first Abyssinian to reach Europe was in the 16th century, where these then-exotic pets were worth a lot of money. For whatever reason, someone in England decided to call this breed the Abyssinian guinea pig, and it stuck until today.
The Abyssinian's Personality and Temperament
There is a consensus among guinea pig owners, breeders and behaviorists that this species tend to be very "mischievous." And by that, I mean more naughty than all the other breeds. But honestly, I think it's just their upbeat, curious personalities that likely get them into more trouble than others. Of course, there is no concrete evidence of this. But from being in the guinea pig community for so long, everyone seems to agree.
But don't let that scare you away from owning one. They are really great guinea pigs with a lot of personality. Yes, all breeds love the company of humans. But, this particular breed seems to enjoy being in our company much more than the others.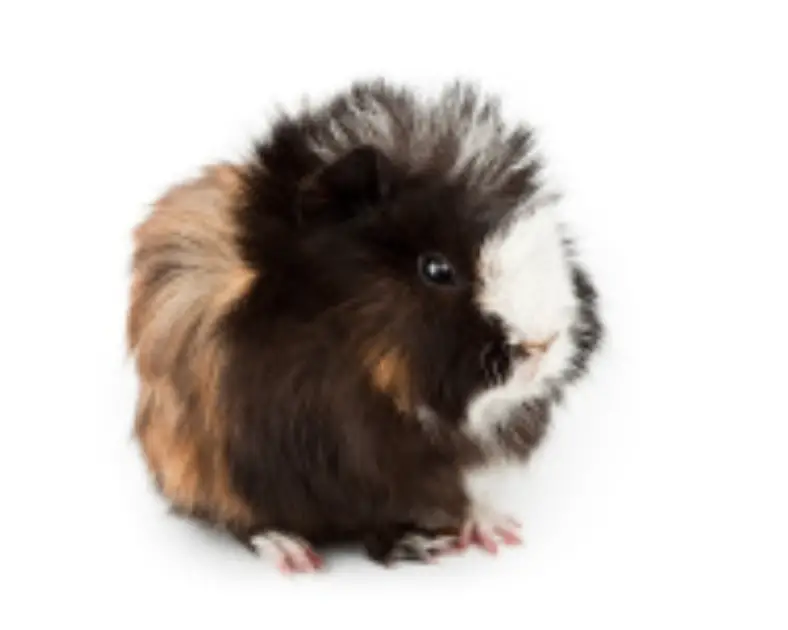 Abyssinians are very energetic, especially when they are young. They have a more lively personalities than others as well. It's rather easy to develop a good relationship with an Abyssinian because they are very personal creatures.
Surprisingly, they are very open to being trained and pick things up rather quickly (at least as puppies). My female Abyssinian, Scarlett, learned how to jump back into her guinea pig cage on command. I don't know about you, but I thought that was pretty impressive.
Caring For Your Abyssinian
Abyssinian guinea pig care is no rocket science. They are slightly harder to care for compared to the other guinea pig breeds, but much easier compared to other small pets.
The hair must be brushed at least once every other day if you want to prevent any tangles. Failure to do this will most likely lead to discomfort. Just buy a soft brush and spend a few minutes every couple days to get those tangles (if any) out. You might also find debris stuck in the hair if you let your pig roam around a lot. So brushing is very important if they go outside frequently.
The main thing to watch out for is illness. Abyssinian guinea pigs are more vulnerable and can experience many illnesses in their lifetime if you don't pay close attention to them. Keep an eye on your guinea pig's diet, as an improper diet often leads to serious health conditions for the Abyssinians.
Like with any other breed, make sure the cage size is large enough for them to run around and get exercise. Abyssinians are typically more energetic, so cramping their space with a small cage with surely make them unhappy. If you cannot afford a big enough cage, make sure to take them out as much as you can so they get a workout.
And for bathing, it's not really necessary unless these "trouble makers" get something foul on their coat. Like many animals, they will clean themselves unless its something like mud.
Abyssinian Color Variety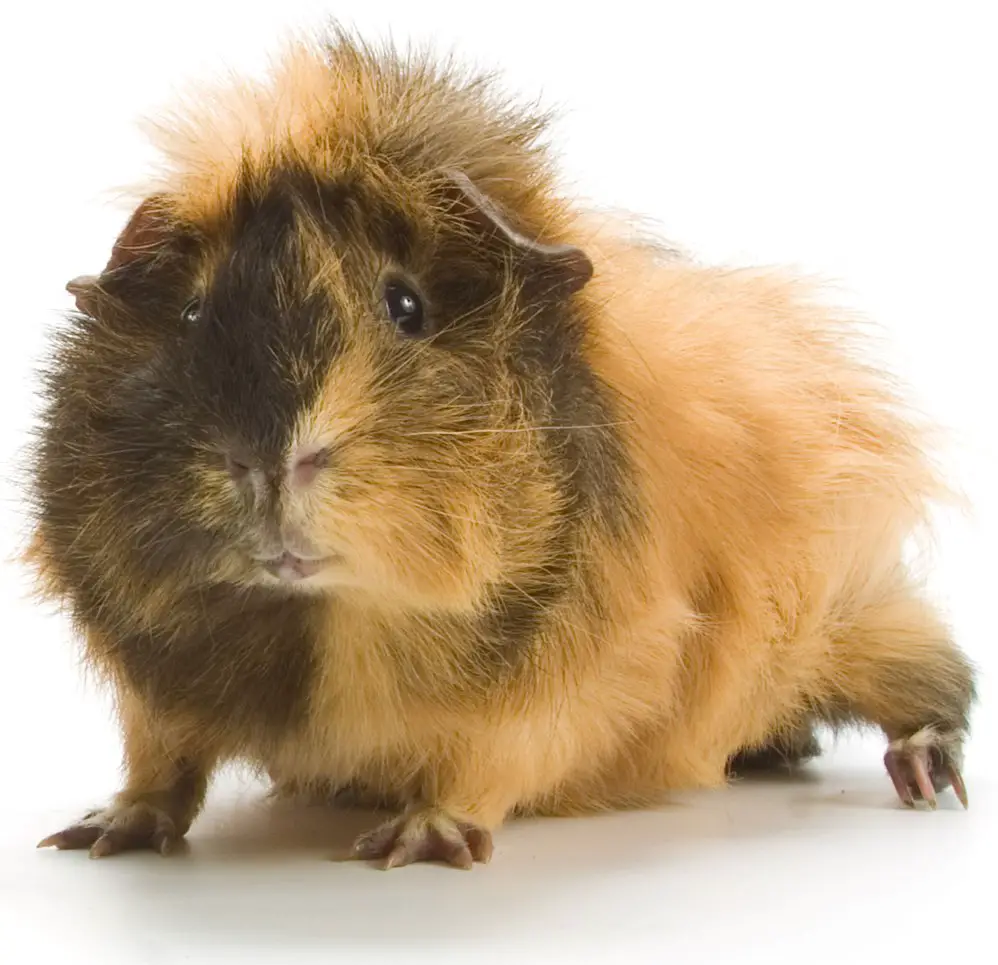 Abyssinians come in a wide variety of colors, including multi-colors. "Brindles" have a well-distributed mix of black and red hairs and can be separated into two different sub-categories: light brindles and dark brindles. Their exact classification really depends on how much red or black they have and the shading of the coat.
On the other hand, "Tortoiseshells" have patches of colors. They'll most likely have spots of black and red throughout the body with no symmetrical patterns.
The "Roans" have a coat consisting of mixtures of the white color. They are classified as Strawberry Roans or Blue Roans. The Strawberry has a coat consisting of white and red hairs, while the Blue has a mixture of white and black hairs.
Last but not least, the "Selfs" only have a solid color. It could be completely white, red, black, or some other rarer colors as well.
I want to note that you should never breed two Roan Abyssinians because they have a gene linked to genetic deformations when bred together. They can mate with any other Abyssinian colors, just not another Roan. If you're not sure what kind of Abby you have, you can ask a vet or post a picture in the Guinea Pig Forum on this website.