9:04 am -October 23rd, 2016 by admin
Table of Contents
When people think "guinea pig," most people probably imagine the extremely popular, short-haired American Guinea Pig. There are plenty of reasons why this breed make such great pets, resulting in their increasing popularity in pet owner's homes around the world. In fact, the American Guinea Pig is the logo for our website because we believe it is the breed that symbolizes guinea pigs to the general public.
If you haven't guessed already, the American Cavy is the most common breed. A large part of this is thanks to commercialized pet shops such as PetSmart or Petco only selling this breed (although I see Abyssinians from time to time). They are quick and convenient to purchase for those urging to start raising a guinea pig as soon as possible. Let's dive into this guinea pig breed and learn more.
American Breed Origins
Believe it or not, the American Guinea Pig is the oldest breed that there is. Researchers have concluded that Americans have been domesticated as far back as 5000 BC in the Andes of Western South America. However, modern humans did not starting raising them since the mid 16th century, when European traders brought them back from their expeditions to South America.
During the 1500's, researchers started to breed different variations of the Americans to create completely new breeds of guinea pigs. This is why we have breeds such as the Skinny Pig or the Teddy now. Back then, this breed was known as the English Guinea Pig and is still referred as that in certain countries today.
American Guinea Pig Temperament
The American Cavy has a great temperament, which may be part of the reason why big commercialized pet stores choose to sell them. Those places won't likely sell small pets that are hard to raise or stubborn and troublesome.
I have raised a few American Guinea Pigs myself and out of all the breeds i've had the pleasure to raise, I can say that they are the most friendly and docile. I've never experienced them displaying any type of aggression towards humans, just sometimes with other guinea pigs. But if that's the case, then it may be an issue with the size of your guinea pig cage.
I have never been bitten by an American Cavy out of anger, aggression or anxiety.Although it's rare, sometimes the guinea pig can mistaken your finger as food, especially if you are hand feeding them a treat, and accidentally bite the tip of the finger.

American Cavy's Personality
These guinea pigs truly are sweet rodents that have a lovable personality. In fact, some owners would describe them as "clownish" because they are quite entertaining to watch. Everything about their personality, from the sounds that they make to the way they react to sounds, is all a little comical and fun.
They love humans, especially their pet parents as you'll see when they "wheek" out of joy after you come back from a long day of work. They love being handled in a gentle way. Easily put them in your lap and start softly petting them and you may hear a mellow purr.

Who is the American Guinea Pig for?
The American breed is perfect for anyone, especially for first time pet or guinea pig owners. Remember when I said that this guinea pig breed is the most popular? Well, that's true because they are by far the easiest breed to care for.
When people ask me to recommend a breed for a small child, I usually recommend the American as a great starter cavy. Just know that if you do get this for a child, an adult should always be overseeing how the child cares and interacts with the guinea pig. Children love Americans and the Americans love children as well. This breed will be a great fit for them.
But you don't have to be a child to own an American Guinea Pig, as they are great for busy adults too. Those that are working a 9 to 6 day job and don't have much time every day to care for a pet, this may be for you. Although your guinea pig will be lonely during the day, it is completely doable for busy workers. Might I suggest getting two guinea pigs so that they can at least play with each other when you're not home.
American Guinea Pig Care
One of the most tedious jobs to do for certain breeds of guinea pigs is to groom them by brushing them from time to time. For long-haired curly breeds, you may need to end up brushing their coat every single day. Because the American Guinea Pig has short straight hair, they usually do a great job keeping themselves clean. This means that coat brushing and baths are at a minimal.
They are also very inexpensive to take care of and require only the necessities such as proper food & nutrition, adequate living space, water and plenty of exercise. However, we encourage you to try to spoil your cavy with treats and toys, anyway. This breed can live roughly 8 to 10 years, so make sure you'll be committed for the period (guinea pig rescues are getting overcrowded).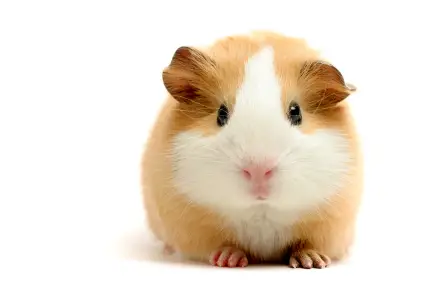 For some reason, the American Guinea Pig does not contract illnesses too easily. We encourage owners to take their guinea pig outside to play and run from time to time, but only if you keep an eye on them. Don't let them eat anything that could potentially cause an illness or disease. Also, a predator could easily come and snatch them away if you're not careful (think, big birds from up top).
Although grooming is not something necessary with the American breed, it may not be a bad idea to give them a bath if something sticky gets on their coat. That can't be very comfortable for them.
Where to Get an American?

As we've mentioned, this is the most common breed and you can get them at any commercialized pet stores (PetSmart, Petco, etc.), however I strongly urge you not to. There are plenty of guinea pigs available in several guinea pig rescues around the world. In fact, these rescues are slowly becoming overcrowded, making the living conditions of the animals living there worse and worse.
If you're set on an American Guinea Pig, then i can assure you there will be plenty of them in the rescues. It's unfortunate that so many owners have abandoned their American Guinea Pigs because of whatever reason.
But if you plan to pick up a young cavy from the commercial pet stores, then that is okay as well. I'm not telling you to adopt from a rescue, but at least consider it.