9:15 am -October 23rd, 2016 by admin
Apples are delicious fruits with high dietary fiber and special flavonoids that make them one of the world's healthiest foods. But the question you're wondering is:
Can guinea pigs eat apples?
The short answer is "yes,"
although there are some things you should consider before you slice up an apple and feed it to your beloved cavy.
Apple Taste Testing With Your Guinea Pig
Of course, don't try to force your guinea pig to eat apples just because they're a nutritious fruit or because they're your favorite fruit. Like with all fruits and vegetables you plan to give, be sure to test whether your pet even enjoys eating them first. After raising six different guinea pigs, you'd be surprised at how picky some of them are.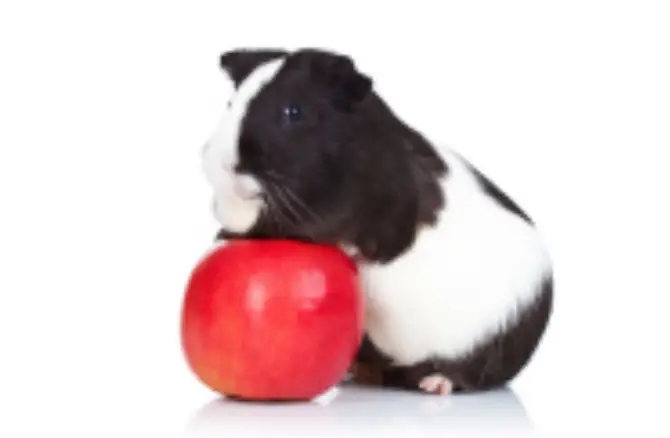 Start by cutting up a small slice and leaving it in their cage (or hand feeding them, depending on how comfortable your guinea pig is with you at this point). Now this is the part where you observe them closely to see whether they like it or not. Sometimes, they'll munch it up quickly and other times they'll nibble at it and then take it away to their hideout to finish it. Either of those actions will mean they enjoy apples. If they nibble at it and leave, it's a clear sign they don't particularly like apples.
If your guinea pig is still relatively new and getting used to being around people, they might not eat the treat because they're too cautious. It's okay; try again later on when you gain their trust.
Things to Consider When Adding Apples Into Their Diet
I want you to be clear that apples should not be part of any guinea pig's regular diet no matter how much they love them. They are treats and should be given to them occasionally. Remember that a guinea pig's diet should be comprised of mainly Timothy hay, pellets and occasional varieties of fruits and vegetables.
You want to cut small slices of apples to make it easy for chewing and digestion. Many owners opt to let them chew on a whole apple, but it could potentially be a choking hazard.
Even with all their nutritional benefits, apples are still considered acidic and heavy consumption can lead to mouth sores in your guinea pig's mouth.
If your pig enjoys apples, start by adding them into their diet once a week. Watch and observe how they react to it. Check their mouth for sores and changes in "wetness" of their stool (in other words, diarrhea). If you see these symptoms, scale back their apple consumption or just stop giving them any. Too many slices of apple can certainly upset their stomach.
How to Deal With Diarrhea After Apple Consumption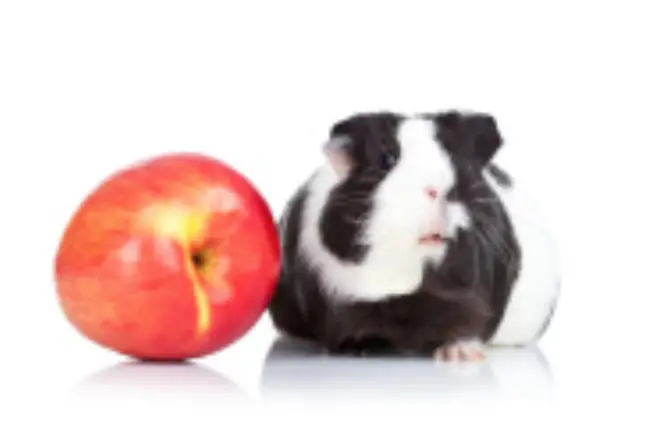 Too much fiber will cause diarrhea in guinea pigs. And the fact that they're much smaller than humans means that diarrhea is a much more serious case. They can become overly dehydrated if diarrhea persists, which can sometimes lead to death.
If your guinea pig experiences diarrhea, stop giving them fruits and vegetables while increasing their intake of Timothy hay immediately. Timothy is good for their intestines because it promotes healthy digestion and can cure their symptoms of diarrhea.
If you still want to try giving your guinea pig apples, wait until their stool is back to normal before doing so. Most of the dietary fiber stored in an apple comes from the skin. So, try feeding your guinea pig the apple without the skin. In most cases, taking away the skin usually does the trick in preventing diarrhea after eating apples. Apples are still nutritious without the skin, just with less fiber.
Some Other Tips For Feeding Apples
Guinea pigs can eat all types of apples, just make sure the apple is fully ripe and doesn't have a sour taste. How would you feel if someone gave you a sour apple to eat?
Stay away from apple seeds. Not only can they choke on them, but they also contain cyanide, which is a chemical harmful to your pet's digestive system.
Apple skin is okay, but make sure to keep their intake of skin low since most of the fiber is contained there.
Although apple leaves are okay for them to eat, they do contain quite some calcium.
Apple Salad Treat For Guinea Pigs!
If your guinea pig has been extra good, you should consider serving them a wonderfully delicious treat: an apple salad.
Cut up small slices of apples and place them into a small ceramic bowl. Remember, the smaller the better.
Include the base vegetable for the salad, such as spinach or other greens healthy for guinea pigs. Try not to use romaine or iceberg lettuce, as they aren't exactly the best for your pet.
Feel free to add other delicious treats such as baby carrots, watermelon, celery or other fruits and vegetables. Make sure to check to see whether what you're adding is safe for a guinea pig's diet.
If you want, you can add a bit of homemade applesauce to make it even tastier. Do not buy applesauce from the grocery store because they usually have a lot of sugar in them and are intended for humans.
Stir it altogether and you have yourself a guinea pig apple salad.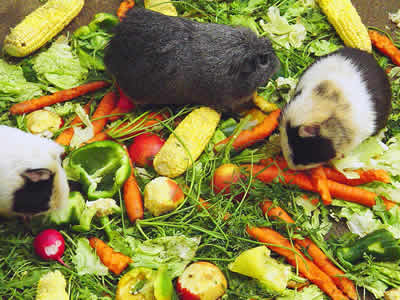 I have owned 4 different guinea pig breeds and they all seemed to enjoy this treat very much. Follow these simple guidelines and start giving your pet the experience of eating luscious apples today!