9:20 am -October 23rd, 2016 by admin
Table of Contents
After commiting to the decision of raising a new baby guinea pig, you probably learned that there are actually several guinea pig breeds to choose from. Which one do you go with? If you're having trouble picking, not to worry, I'm here to make your decision making process as easy as possible.Although different breeds differ in color, shape and size, their personalities are for the most part the same across the board. Just know that no matter which type of cavy you decide to go with, he/she will be a lovable companion you can grow a great relationship with.

The American
The American guinea pig, as you probably guessed, is the most common breed of them all. They are the ones that you probably imagine when you think "guinea pig." This breed has a really good temperament and tend to get along better with other pigs (but more importantly with children). 
The reason why they're so popular is because they're so easy to take care of. Not all guinea pigs have short hair like the American. And because of this feature, grooming isn't as time consuming as with the long-haired breeds. I would highly recommend the American if you plan on giving one to a small child. And although they aren't exactly the most exotic or exciting, they are just as lovable as a Peruvian.
                               
The Abyssinian
One of the older species, the Abyssinian guinea pig is certainly an icebreaker for a new home visitor. They have somewhat long hair with swirls, which make them perfect for show guinea pigs. Eight to ten rosettes (or swirls) is the recommended number by judges if you want to get your pig shown at a competition.
But because of the long hair and curls, it's a bit more difficult to take care of an Abyssinian. Grooming needs to be done more often. This would not be an ideal pet for a child because they are not as low maintenance as, for example, the American.
The Abyssinians are known to be naughty and get into extra trouble. But don't let that deter you from owning one. Their fun and loving personality will certainly make up for the mess they might cause.
                             
The Peruvian
Of all the different types, the Peruvian guinea pig takes the cake for the longest hair. In fact, the longest hair recorded by any guinea pig (set by a Peruvian) reached 20 inches long! Unlike the Abyssinian, the Peruvian has long straight hair. And although they still require time with grooming, some owners opt to cut their hair short to avoid having to brush everyday. But why get a Peruvian if you plan to shave the guinea pig? If you do choose to keep the long hair, combing is essential, otherwise their hair will likely get tangled and cause discomfort. So, keep that in mind when considering this type.
The Peruvian tends to be more alert and curious than all the other breeds. They are just as loving and will often come greet you out of curiosity every chance they get. I would highly recommend them for children, especially if you plan on trimming the hair for them.
                          
The Silkie
The Silkie guinea pig, also nicknamed the "Sheltie," is quite similar to the Peruvian in the sense that it has long smooth hair. However, there is a small difference in physical appearance. The hair around their head sweeps back differently, and looks as if it had been purposely slicked back. Because of the styling of the hair, I have heard some really great guinea pig names specific to the Silkie.
The long hair requires diligent grooming and isn't recommended for kids. However, if you're a parent that is willing to take on that responsibility, then by all means go for it. Their hair is shinier and softer than the Peruvian, so they are great for little kids to play with, just not for them to take care of.
                                 
The Teddy
Sporting a short yet dense coat, the Teddy guinea pig is often described as "wiry." They may not always be soft like the other breeds, but they are relatively easy to maintain. But due to the nature of their coat, occasional brushing is necessary to remove any junk stuck in their fur. And trust me, as time pass, there will be junk.
The reason why they're called the "Teddy" is because of their uncanny resemblance to a stuffed animal. They are also known for their upturned nose, which is exclusive to this breed of pigs.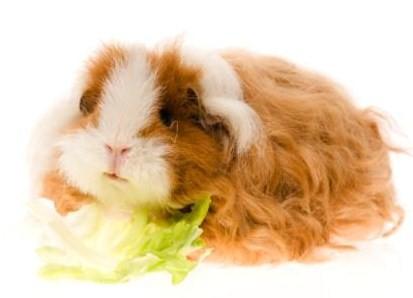 The Texel
The Texel guinea pig is truly a remarkable species that's much sought-after by some of the biggest enthusiasts. Their curly soft hair is not just apparent on their backs, but throughout the whole body, including the belly. The unique hairs have made them one of the finest and most successful species for guinea pigs shows.
As you've probably realized, this species is the most difficult to groom because they are extremely prone to tangling. I would only recommend this to those who want to show off their guinea pigs. But if you have the dedication/time and want to show off such an exotic piggy to your friends, they will be worth the effort.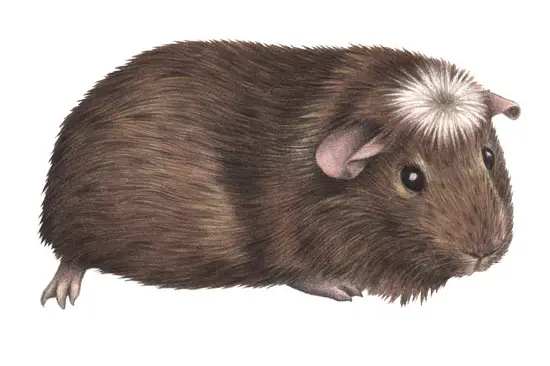 The White Crested
These little bundles of joy are definitely a crowd pleaser. They're also easy to spot because they all look like they have a white crown above their head, hence, "crested."
Other than the crest, they most resemble the American. The short, smooth hair makes them easy to groom and great for kids to take care of. Although these are much harder to find than the American, they are essentially the same.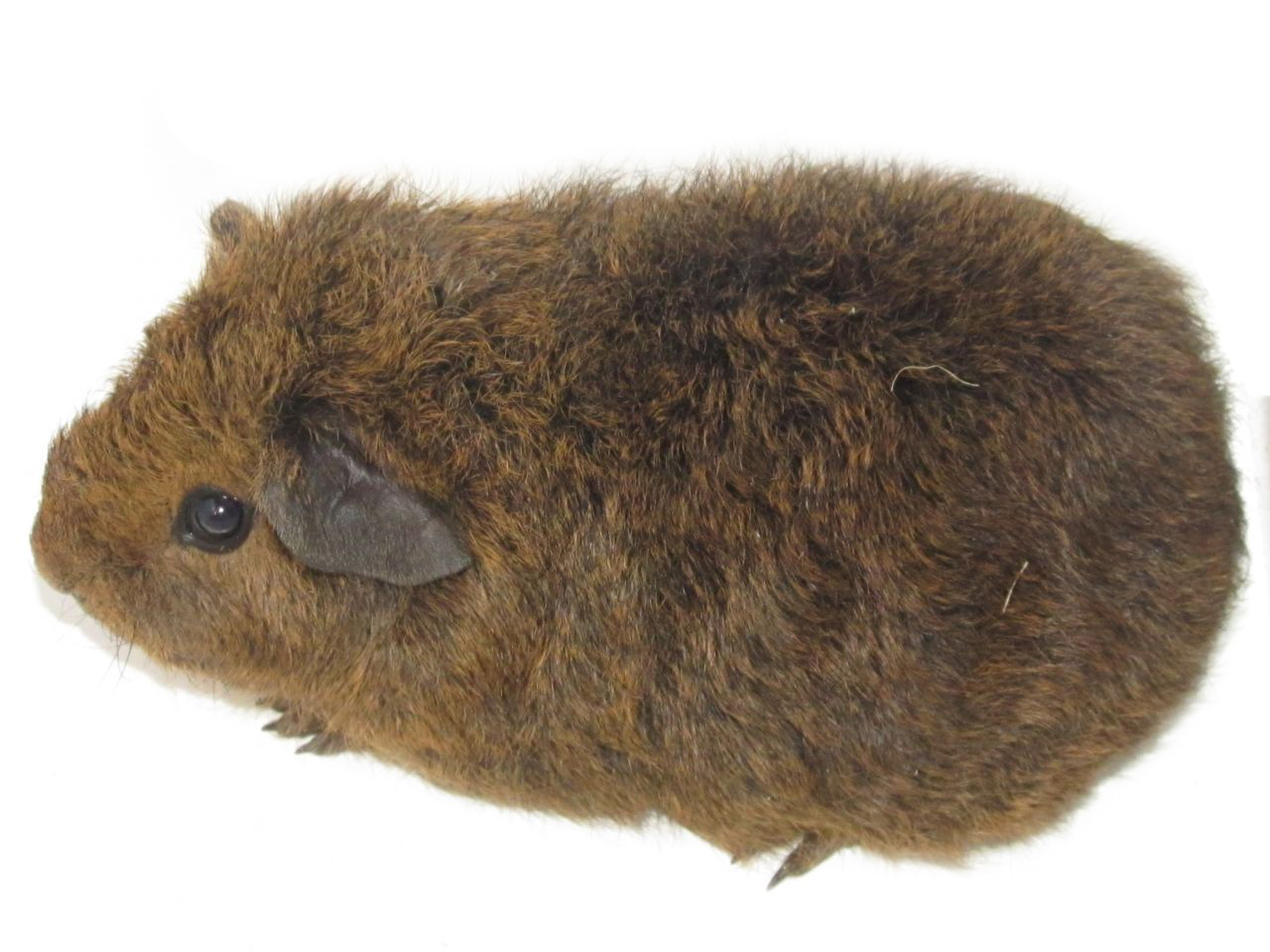 The Rex
The Rex guinea pig is another shorthaired rodent with hair no longer than 1 cm long.  Most mammals have three different types of hairs, including guard hairs. That specific type of hair is used to protect the rest of the coat from any wearing and an excess of moisture. However,the Rex does not have guard hairs, making its fur very wool-like. 
Their most notable features are long droopy ears with a dense, rough coat. Rex guinea pigs are great for children because of they are much easier to take care of than most other breeds. The lack of guard hairs give it's fur a unique texture that children seem to love.
The Himalayan
The Himalayan guinea pig is truly a remarkable breed and is often called the siamese cats of guinea pigs. If you can get your hands on one, I would highly recommend it. Despite their looks, they are not as rare as you'd expect.
Not only are they considered albino, but they are known to have color (usually black) on their noises, feets and ears (called "points"). I would recommend this breed if you live in an area without too much sunlight and heat. The points will actually start to disappear if it's exposed to a lot fo sunlight. Aside from those factors, these are relatively easy guinea pigs to raise because of their short haired coat.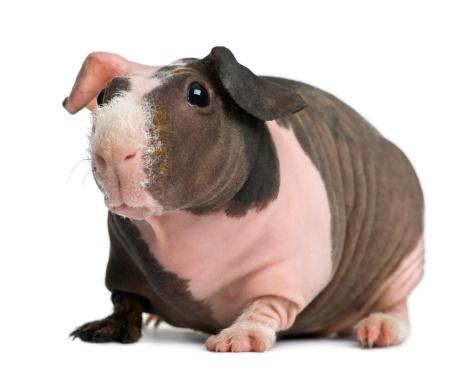 The Skinny Pig
Almost completely hairless, the skinny pig actually has some hair on the feet and legs. They originated from a lab guinea pig colony, where strains of shorthaired and hairless guinea pigs were crossed to produce this breed.
Although they aren't the most attractive breeds of guinea pigs, they have similar personalities to the other 9 types. Sure, many people have claimed that it would be harder to "love" them because of their physical appearance, but as long as you treat them properly, they will reciprocate the love.
I would not recommend these for children, as it may be hard for them to warm up to a skinny pig. For those that truly appreciate these animals for what they are and don't absolutely need the "cutest" pet, this hairless breed would be great for you.
* * *
Don't stress too much over which to get, because they will all make great pets for you and your family. All these guinea pig breeds have warm personalities and as long as you properly take care of them, they will love you back. Happy raising and feel free to ask questions in the forum.