9:17 am -October 23rd, 2016 by admin
Table of Contents
Perhaps my favorite breed, the ever-so popular Silkie Guinea Pig has the hairstyle of a Hollywood celebrity. With charming personalities complemented by beautiful locks of hair, is it really surprising why this guinea pig breed has become so popular? We certainly don't think so.
In addition to being popular domestic pets, they have become even more popular show guinea pigs. They tend to do pretty well at these show competitions because of their undeniable aesthetic looks, which captivates show judges all around the world.
Characteristics of the Silkie
The extremely attractive Silkie has hair unlike any other breed of guinea pigs. Their locks of hair are very soft and shiny, making them great for kids to pet and interact with. The Silkie's coat is pretty much the opposite of the Teddy guinea pig's coat, which is short and rough.
They have long straight hair like the Peruvian, but instead of having hair cover their head, the Silkie's hair sweeps back over their head. It actually looks like the hair had been styled that way on purpose. And, it really looks like a kind of hair-do that I'm sure Leonardo Di'caprio must of had at one point in his career. In a way, it resembles the mane of a lion.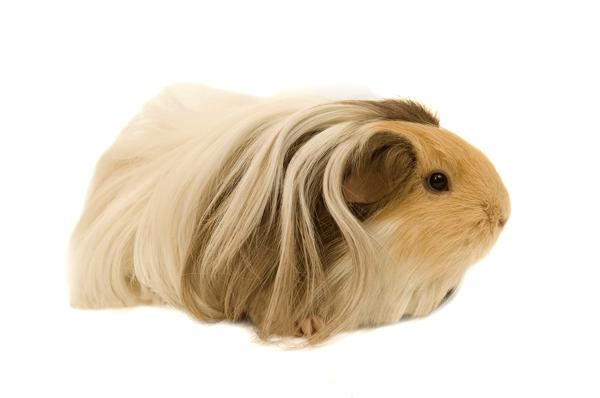 Although the Silkie's hair isn't as long as a Peruvian's hair, it gets longer towards the rear. If you observe them from the top, they actually resemble the shape of a teardrop. And because of this unusual shape, it's sparked some creative guinea pig names for the Silkie, such as, you guessed it: "teardrop."
If you're lucky enough to find a Silkie with a satin coat, you'll notice they have much softer and shinier hair than the regular Silkies.
Among all the guinea pig breeds, the Silkie is known for being the most gentle. They have a very laid back personality and may appear like shy creatures in the beginning. It may take them a bit longer than other guinea pigs to warm up to you. So I would recommend trying harder by bribing them with foods and treats to get them out of their cage and comfortable being around humans for the first time.
Up close encounter feeding a carrot treat to a Silkie guinea pig:
Origins of the Silkie
As you may have guessed, the Silkie guinea pig was given its name because of their "silky" smooth hair. However, people from Europe call them Sheltie guinea pigs instead. Why the Europeans called them Shelties when they were first discovered is still a mystery today.
A relatively new breed, the Silkie was discovered in the 1970's around the same time as the Skinny pig. They were originally bred in the United Kingdom as result of crossbreeding a "Self Black" guinea pig with a Peruvian. The reason for breeding these two types of guinea pigs may have been for experimental reasons like how all the other exotic breeds were discovered.
After producing such a unique and attractive guinea pig, they soon began to breed them as domestic pets. The Silkies quickly gained a lot of recognition and popularity and now have become household pets found worldwide.
Silkie Guinea Pig Care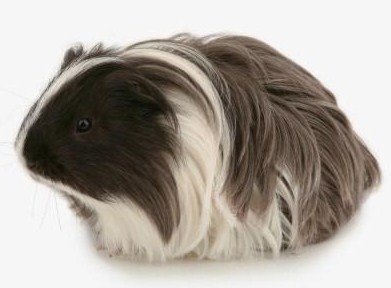 Although this breed make great pets for children to play with because of how soft and docile they are, I wouldn't recommend them as pets for children to own. In order to keep their silky smooth hair healthy, they require constant grooming on a daily basis. These are high maintenance pets. So, if you're a responsible adult or adolescent willing to handle all the grooming for a small children, then a Silkie would be perfect for them.
I would try to brush their hair at least once a day. Without doing so, the silky hair will eventually tangle and may cause a lot of discomfort to your pet when it comes time to untangling it. This means that you should get your Silkie comfortable with being brushed everyday at an early age. Remember, all guinea pigs like schedules. Once you get them into the schedule of being brushed, they'll actually look forward to it.
I don't recommend most guinea pigs take baths, but doing so occasionally can be very beneficial to Silkies in particular. Due to the nature of their coat, bathing can actually keep their hair extra shiny all the time. But don't go off dunking your Silkie into a bowl of water yet, the proper technique required for this specific breed is called "spot cleaning."
You should always use a wet garment to wipe down their coat instead of bathing them in a bowl of water. This should be done at least once a month, although I recommend doing this every few weeks or so. And like with brushing, make sure you start this process early in their lives, so they don't squirm so much when you want to wash them.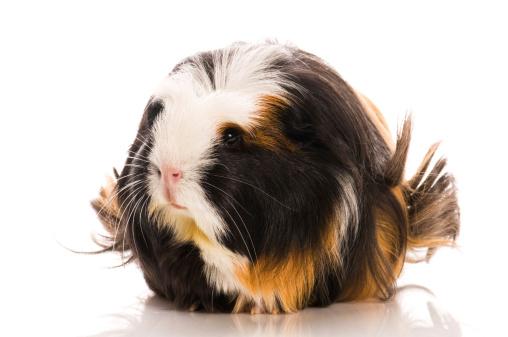 This guinea pig's diet should be comprised mostly of Timothy hay, food pellets, water, Vitamin C and delicious fruits and veggies. Proper cage setup and exercise is still the same as any other breed. Make sure to give them plenty of space for exercise and keep them entertained so that they're happy little critters.
If you have any questions regarding the Silkie guinea pig or caring for them, leave a comment in the section below and I'll get back to you soon.