9:18 am -October 23rd, 2016 by admin
Table of Contents
The Skinny Pig is truly a unique breed of guinea pig that you most likely won't see around. To be honest, i'm not even sure how many people know this odd critter even exists. However, in the past decade, more and more owners have begun to raise this increasingly popular hairless guinea pig.I want to clear up a common misconception by saying: hairless guinea pigs do not always mean Skinny Pigs. Hairless guinea pigs are a category of guinea pigs and not so much a breed. There are in fact two breeds that fall into the hairless guinea pigs category: the Skinny Pig and the Baldwin Guinea Pig. However, today well just be talking about the former.
Up close with 5 Skinny Pigs:
What Makes the Skinny Pig Unique?
What sets this breed apart from all the other types of guinea pigs? Of course, the first thing that comes to mind is that they're hairless. But this isn't exactly 100 percent true. Although not much, Skinny Pigs actually do have hair on their feet, legs and muzzles. Baby skinny guinea pigs often may actually be hairless, but they should eventually grow hair as they age.
There have also been cases of some growing very light hair fuzz along their backs, but it's not very common. On the web, they have been often mistakened as shaved guinea pigs.
Usually a Skinny will have really smooth skin with noticeable wrinkles or flaps around the neck and legs (see above). And for obvious reasons, many people think they have visible ribs and spines protruding out from under the skin. This also isn't true, at least for a healthy Skinny. Their body should be full and sometimes plumper than all the other species because of their diet habits.
The only real difference between a Skinny Pigs and other guinea pig breeds is the appearance. Other than that, personalities, temperament, intelligence and tendencies are fairly similar.
Skinny Origins
Among all the guinea pig breeds, the Skinny is one of the newest. So new that they have only existed for less than 40 years! So where exactly did this new breed suddenly come from? Did humans discover them on an uncharted island 40 years ago? No, not on an island, but rather in a lab.

Using a cross between a hairless lab strain and haired guinea pig, scientists were able to breed the Skinny Pig. Back in 1978, Montreal's Institute Armand Frappier developed a colony of Hartley lab guinea pigs, where they identified a genetic mutation. And because of that spontaneous genetic mutation discovery, they were able to use the related strain to create a brand new breed of guinea pigs.
So why were they trying to create this new, abnormal breed? For research, of course. As you may know, guinea pigs used to be very common test subjects in the past few decades. That's where the term "guinea pig" for first-time experiments come from. So in 1982, a new batch of Skinnies were born at the Charles River Laboratories to be used in dermatology studies. They were seen as valuable test subjects because, like humans, they were mammals with a thymus and a normal immune system.
Skinny Pig Care
Hairless guinea pigs, including the Skinny, aren't really physiologically different than their haired counterparts. They are still very energetic and have great personalities like every other type. They eat the same foods and they make the same guinea pig sounds. Pretty much, the only difference is the hair, or rather, the lack of hair.
But when it comes to guinea pig care, you need to be a little more cautious and attentive. The hair or coat of a guinea pig acts as a layer of protection to their immediate skin. So by taking that away, their skin is just as exposed as ours. Except we have clothes on and skinny guinea pigs don't.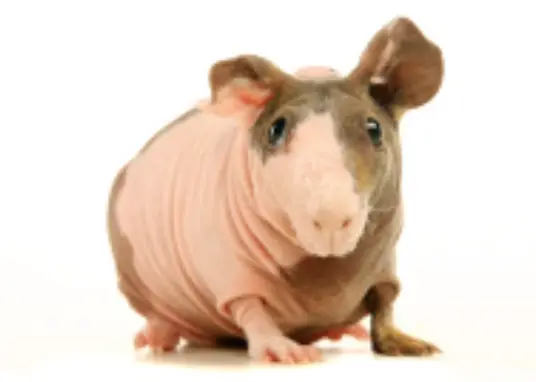 The lack of hair also means that they're more sensitive to temperatures. I would recommend slightly upping their food supply because they typically need to eat a little more to maintain body fat and a higher body temperature. Getting their body temperature between 75 to 80 degrees Fahrenheit is ideal, which is slightly higher than the average body temperature of guinea pigs with hair.
Skinny pigs with exposed skin make them extremely vulnerable to injuries and infections. I would recommend trying your best to keep them indoors in a controlled environment as a precaution. If you want to take your hairless skinny pig out for some sunshine, you should be extra careful with what they're doing at all times.
The Skinny Pig Genes
Note: The Guinea Pig Hub does not suggest, recommend or condone the breeding of guinea pigs, including Skinny Pigs. You should NOT try this at home. This section is strictly for informational purposes and nothing else.
If you have Skinny pig gene carriers in the mix, you won't for sure get Skinny pigs. It's a gamble, but here's how it works:
Two Skinny Pigs will result in 100% of the litter being Skinny Pigs.
A Skinny Pig and a haired Skinny Pig gene carrier will result in a 50% chance of having at least one hairless pig. The rest of the haired litter will just be gene carriers.
Two gene carriers will have a 25% chance of having a hairless pig within the litter.
Lastly, breeding a Skinny pig with a Baldwin guinea pig will result in no hairless puppies surprisingly. However, about half of the litter will carry the gene.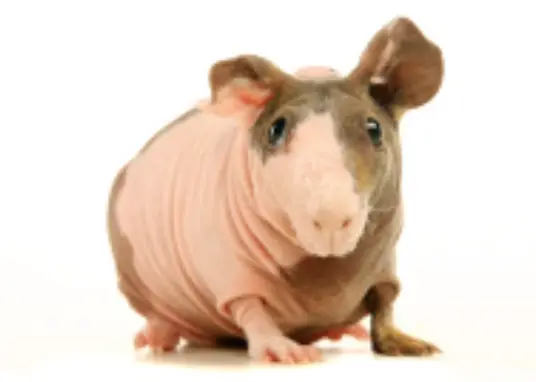 How to Find Skinny Pigs
If you're looking to find a Skinny Pig for sale, I would suggest the best place to find one is by researching for nearby breeders online. It may be difficult for you to find some that specialize in breeding Skinny Pigs, but they do exist.
Before doing your research on breeders, I would locate your nearby guinea pig rescues and check there first. Although it is not likely, there still is a slim chance that a rescue has a Skinny Pig. Saving a guinea pig from a rescue is by far the best way in finding a guinea pig and should always be the first place you look. In addition, it feels more rewarding knowing that you saved a guinea pig from (usually) a bad situation.
Another option is to use a pet finding service like PetFinder. This is a platform where pet owners are looking to find their pets a new home because they can't take care of them anymore for whatever reasons. Usually it is free (or very little) of cost to rescue a pet from platforms like these
The problem with commercial and even small local pet stores is that they don't often have unique breeds like the Skinny Pig. You're pretty much limited to Americans and Abyssinian guinea pigs at pet stores. However, it wouldn't hurt to check a local pet store, as they may sometimes surprise you. Petco and Petsmart will not have Skinny Pigs, though.
Look through forums and ask around for Skinny pigs. Sometimes there will be people giving away rare breeds of guinea pigs on these forums because they aren't able to care for them anymore.
It takes a lot of persistence, dedication and research to find a Skinny Pig. But if you really want one, you may eventually find one. It is not impossible to find a Skinny Pig.
***
I would highly recommend Skinny pigs as a house pet if you're okay with the way they look. Some people aren't, and that's okay. But they are really great breeds that act like any other guinea pig. There's a reason why they're becoming more and more popular today: people are finally understanding how great of a pet they actually are.
If you have any more questions regarding Skinny Pigs or how to care for them, please leave a message in the comments section below!