9:16 am -October 23rd, 2016 by admin
Table of Contents
In the last few years, the Teddy guinea pig has been growing in popularity, and for good reason. Not only do they have wonderful personalities, but theguinea pig community also seems to agree they warm up to people rather quickly. This particular guinea pig breed makes a wonderful pet for children because they are extremely low maintenance, and have an energetic yet friendly persona.To an everyday person, the Teddy may look like the common American breed, but upon further inspection, the differences couldn't be more distinct.
What's Special About the Teddy Guinea Pig?
The Teddy's most unique feature may be the rough coat they have. If you were to pet an American and then a Teddy, you would notice how dense and rough the coat of the Teddy actually is. The rough hair texture is similar to that of an Abyssinian guinea pig, but shorter and without the rosettes.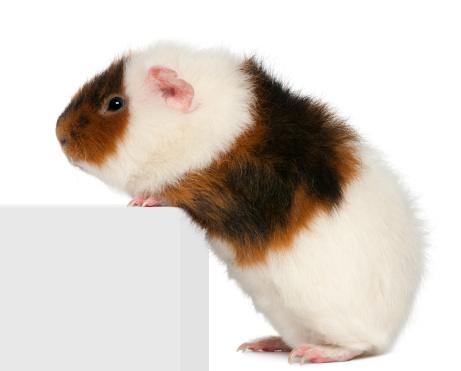 Although the coat of the Teddy is usually very wiry, there are some coats that are soft. But if you plan on showing off your guinea pig, the rough coats are more favorable in competition according to the judges.
Another known feature of the Teddy is their upturned nose, also called the "Roman nose." Unlike the nose of other breeds, the Roman nose is much wider and a bit curvier. However, this nose is also found in the American cavy, which is probably a big reason why there is often confusion between the two breeds.
Check out this encounter with a baby Teddy guinea pig:
Teddy Origins
As you might have guessed, the name "Teddy" derived from the fact that they look like stuffed animals, specifically teddy bears. The coat, the shape and the nose are all features that you may find in teddy bears, which resulted in a fitting name for this guinea pig breed.
The Teddy guinea pig is also one of the newer breeds. Like the Skinny pig, the Teddy was born due to a genetic mutation. Many people get scared off when they hear the phrase "genetic mutation," probably from watching too many shows and movies like the "X-Men" series. But let me assure you, the mutation is only in the appearance of the guinea pig (such as their coat), and not anything related to mental or physical health.
So how did the scientists stumble upon breeding this species? Not many people know exactly how. But it most likely resulted from using guinea pigs in scientific experiments, where they accidently discovered or purposely created a new breed for a certain type of research. For instance, did you know the Skinny pig was bred for the purpose of doing dermatology studies?
Teddy Grooming and Care
Caring for your Teddy is not a hard task to do, which is why they're popular breeds among children. You don't ever have to worry about a Teddy's hair tangling up, but brushing is still necessary to remove debris that may irritate their skin. Instead of brushing their hair every day like you would with some exotic long-haired guinea pigs (e.g. Silkie, Peruvian, Texel), you really only need to brush once a week at the very least.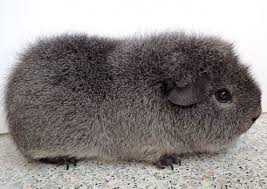 Using a slick or thin brush will help remove any loose hair from the rugged coat. Some people choose to go with a cat wire brush, but I wouldn't recommend it because you can easily hurt your pet by scratching and irritating the surface of their skin. If you have to use this, brush as gently as you can.
An important note is that Teddies have drier skin. Sure, you may never have to give your guinea pig a bath if you're very careful. But, if you plan on bringing them outside to play, expect them to have a very occasional bath. It's recommended that they don't have more than 3 baths per year. And, when you do give them baths, use special medicated shampoo recommended by a vet.
Teddy guinea pigs are known to build up a lot of earwax over time due to the nature of their ears. Simply use a warm damp towel to clean out the insides of their ears. If you're still having trouble getting the wax out, you can use mineral oil to loosen the wax before cleaning it. They may shriek or produce other unpleasant sounds, but its important that you do this every so often.
Aside from grooming, everything else from cage setup to proper dieting remains the same for the Teddy guinea pig.
* * *
Remember, these are beautiful creatures that are often very curious and love attention. They're certainly one of my favorite breeds, but you really can't go wrong with any type of guinea pig. If you have questions or concerns about the Teddy guinea pig, feel free to leave a comment in the section below.