9:14 am -October 23rd, 2016 by admin
Table of Contents
The Texel guinea pig is a breed unlike any other. These crossbred guinea pigs have become a highly sought-after breed because of their unique and curly long coat. And after the American Cavy Breeders Association recognized them as an official breed in 1998, they have increasingly become more abundant and popular within homes across the world.
Chances are, you don't know much about the Texel cavy (like many other people), and that's fine. Not many people own this breed because they are harder to get than your typical American guinea pig. Here you'll learn their unique characteristics, where they came from and how to care for this superb breed.
An encounter with a beautiful (brown & white) baby Texel Cavy:
The Texel Guinea Pig's Unique Features
The Texel Guinea Pig is also called the "long-haired Sheltie," which is a somewhat fitting name. Although it's true that the Texel has slightly longer hair than the Silkie/Sheltie breed, the former has curly long hair as opposed to the latter's straight long hair. This unique coat is the reason why there have been so many creative Texel Guinea Pig names floating around.
Let's explore some known characteristics:
The entire body of the Texel is covered in their trademarked curly hair with a part on the back of the coat.
As for facial hair, it varies from cavy to cavy depending on genetics. Most of the time, the hair on the face will be much shorter than usual so they don't suffocate in their own coat.
Hair under their jawline and ears are not always present and will vary as well.
They have bodies that are shorter than other breeds.
The Texel has a wide and round head.
Satin Texels are also available and have a shinier, denser coat than their regular Texel counterparts. However, the American Cavy Breeders Association has not recognized the Satin Texels yet.
The Texel Cavy's Origins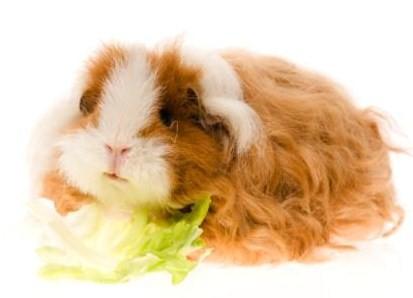 Like the Skinny Pig and the Teddy, the Texel is a relatively new breed that originated from England in the 1980's. After cross breeding a Silkie Guinea Pig with a Rex Guinea Pig, the initial Texel was born. Within the following few years, this breed had developed into what the Texel is today through several more crosses. The exact details of the crosses it took to create the curly longhaired Texel are still uncertain.
By 1998, the final iteration of the Texel cavy had been popping up in homes and show competitions everywhere. The ACBA couldn't ignore this increasingly popular breed and finally recognized it in their association.
Texel Guinea Pig Care
I would not recommend a Texel Cavy for a small child or first time owner because it requires extensive care and attention to properly raise one. Due to the nature of the Texel's coat, they require consistent grooming on a daily basis. And as you might have guessed, their coat is extremely prone to tangling. But the good news is the Texel's diet plan and cage setup (general care) are the same as any other breed of guinea pig, so the focus here is really on the grooming.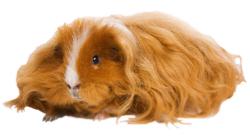 Texel grooming necessities:
I would try to brush their hair once a day, or at the very least every other day. Failure to do this may cause debris (from playing outside of the cage) and bedding (from inside the cage) to build up in their coats.
Regular trimming of the coat is recommended to maintain good hygiene and keep your grooming efforts minimal. Trimming the backside is needed to avoid exposure of the coat to urine.
Because their hair covers the ear, they are likely to have earwax buildup. Make sure you check and clean their ears every so often.
Like with other guinea pigs, make sure to trim their nails about once a month. Another option is to have them walk on smooth bricks inside their cage, which will naturally trim the nails.
Most guinea pigs don't need to take regular baths, but it would be a good idea for a Texel. Their coats usually drag on the soiled hay, picking up feces and/or soaking up urine.
Running your fingers through their coat will not only be a pleasant massage for them, but will also loosen excess hair.
***
The Texel Guinea Pig is truly a gorgeous cavy with amazing tresses in their coat. As you can tell by now, these pets are only for the most dedicated pet owners. If you have the time and commitment, then this breed would be perfect for you to show off to your friends, families and possibly show competitions.
If you have any more questions regarding the Texel Guinea Pig, feel free to use the contact form or just leave a question in the comments section below. I will get to your question as soon as possible!