Of all the wonderful pets available, you've finally made the decision to raise a guinea pig. Good work, what's next? Pick a type of guinea pig. Unlike dogs, the choice is easier since there are only a few main guinea pig breeds.
By now, you've probably learned that there are actually several guinea pig breeds to choose from. Specifically, there are 10 popular breeds.
These guinea pig breeds differ in color, shape, coats, size and personalities. However, they're all very similar for the most part. There is no wrong choice in selecting a breed.
No matter which type of cavy you decide to go with, your guinea pig will be a loving companion. This guide serves as the best resource for picking the guinea pig you want to develop a loving relationship with.
Highlights: Lively, Affectionate, Easy to care for.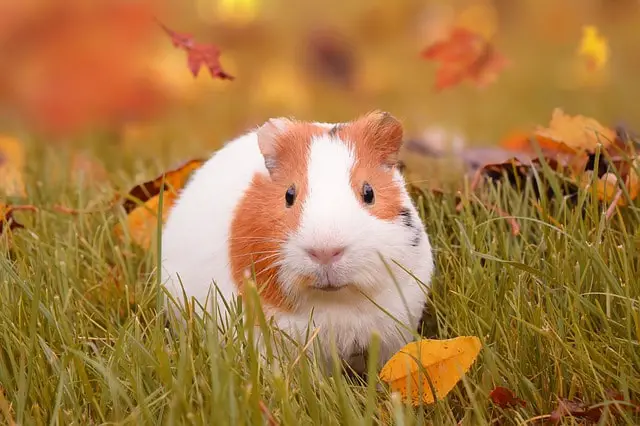 As you can probably guess, the American Guinea Pig is the most common breed of them all. They're the epitome of these animals and probably the first image that comes to mind. In fact, it's relatively rare to see a guinea pig that's not of this breed.
Not only do Americans have superb temperaments, but they also get along better with other guinea pigs in the enclosure. Plus, they love children as much as children love them.
However, the main reason why they're popular is because they're so easy to take care of. Not all guinea pigs have short straight hair like the American. And because of this particular physical characteristic, grooming isn't nearly as time consuming compared with long-haired breeds.
Interesting Facts
Back in the 1500's, the American Guinea Pigs were called the English Guinea Pigs. In fact, they're still called that name in certain countries today.
American Guinea Pigs are the oldest guinea pig breeds, dating as far back as 5000 B.C.
The American Cavy originated from the Andes of Western South American. They were brought to the U.K. by European traders on South American expeditions.
American Breed Recommendation
We'd highly recommend this breed if you plan to get a cavy for your children. Just make sure the child understands how to respect these animals so they don't unintentionally hurt them. Guinea pigs are very sensitive!
American Guinea Pigs are also just as great for adults looking for a relatively low maintenance small pet. Sure, they aren't the most interesting or exotic breeds, but they have a wonderful personality most people can appreciate.
READ MORE: American Guinea Pig – Guide to the Most Popular Cavy
Highlights: Mischievous, Loving, Fun.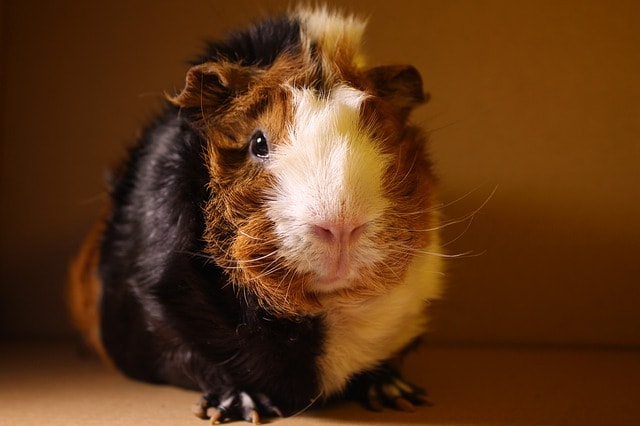 One of the oldest types of guinea pigs, the Abyssinian is certainly a great icebreaker for a home guest. Their iconic multi-colored hair with "swirls" make them some of the best show guinea pigs in the world.
These swirls are actually called rosettes and are one of the main features being judged in these show competitions. In fact, show judges recommend that your Abyssinian has eight to ten rosettes if your Abby wants to be competitive.
For reference, most Abyssinians have 6 rosettes. In this case, the more the better. But if you're not showing your Cavy, then who cares? It's all up to your personal preference!
On another note, Abyssinians are known to be naughty or mischievous by nature – they often get into extra trouble. But don't let this deter you from owning one. Their fun and loving personality will certainly make up for their tendency to let their curiosity get the better of them.
Interesting Facts
The Abyssinian Guinea Pig's origins go so far back, no one is certain where they originated from.
Most people believed they came from the historic Abyssinia (now Ethiopia), but scientists have refuted this. The names have no relation.
The first Abyssinian reached Europe in the 16th century, where the Brits decided to call them Abyssinian Guinea Pigs for unknown reasons.
Abyssinian Breed Recommendation
Personally, we wouldn't recommend the Abyssinian for a small child unless he/she is getting help from an adult in caring for the animal. If the child is too young to adequately groom this breed, then it could be a problem.
Because of the long hair and funky rosettes, it's more difficult to groom this breed. And without proper grooming, the coat can tangle and cause discomfort for the cavy.
As for adults, the Abyssinian is a fantastic choice! They're very similar to the American in terms of temperament and personality, but have a unique flare to them.
READ MORE: Guide to the Mysterious Abyssinian Guinea Pig
Highlights: Curious, Alert, Kind.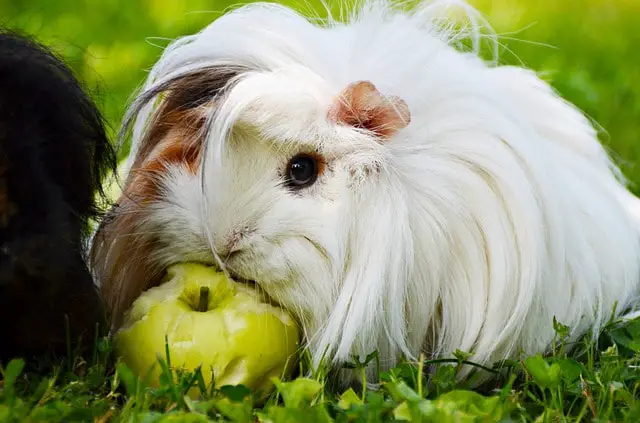 Of all the different types of guinea pigs, the Peruvian Guinea Pig takes the cake for the longest hair – and by far. In fact, the guinea pig that holds the record for the longest hair was a Peruvian. He had hair that reached 20 inches long!
Unlike the Abyssinian, the Peruvian has long straight hair. And yes, their coat requires the most attention and commitment of all breeds.
However, some owners opt to cut their hair in order to prevent brushing their coats every day. Personally, we wouldn't recommend it – we say let them be as intended! But that's your choice as an owner.
Check with your vet about how to cut a Peruvian's hair safely! And do not shave them! That can lead to all manner of skin and coat problems.
The Peruvian tends to be more alert and curious than any of the other breeds. Still, they're just as loving and will often come greet you out of curiosity every chance they get.
Interesting Facts
Despite popular belief, the Peruvian guinea pig was not bred in a lab like the Skinny Pig. People probably make this assumption because of how unique they look.
They originate from South America. Specifically, from countries like Bolivia, Argentina and of course, Peru.
The Peruvians were first domesticated in France, as opposed to England – where Americans and Abyssinians gained instant popularity.
Peruvian Breed Recommendation
I highly recommend a Peruvian for older children and teenagers, if properly supervised. If you plan to cut the guinea pig's hair, then it may be easier for them to care for. Regardless, supervision is always highly recommended with these fragile pets.
For adults that want an exotic pet, look no further. The Peruvian is for you. They're wonderful and sweet animals, yet interesting and quirky. There's no dull moment with a Peruvian Guinea Pig.
READ MORE: Peruvian Guinea Pig – The Complete Guide
Highlights: Charming, Gentle, Calm.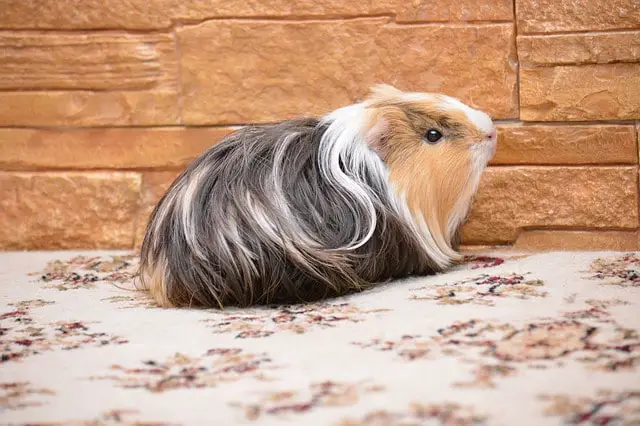 For reference, the Silkie is often referred to as the Sheltie Guinea Pig. At first glance, the Silkie is quite similar to the Peruvian in the sense that it has long, smooth hair. However, there is a small difference in physical appearance.
The hair around their heads sweep back differently than the Peruvian. It actually looks like it had been purposely slicked back with hair products. Obviously no hair products were involved, the Silkie is just that stylish – earning the nickname: the Hollywood Cavy.
Because of the unique styling of the hair, we've heard some really great names for the Silkie. Check out our favorite guinea pig names.
There's something about the Silkie Guinea Pig that makes them so charming. Of all the breeds, they're perhaps the most calm and gentle. As a result, they're fantastic with small children who also have a calm demeanor.  
They're as laid back as any other domestic pet and may even appear shy or timid in the beginning. For this reason, Silkies take a bit longer to warm up to people than other guinea pig breeds.
Interesting Facts
Silkies were originally bred in the U.K. by crossbreeding a "self black guinea pig" with a Peruvian.
In America, this breed is called the Silkie. However, in Europe, they're called Shelties. No one knows exactly why they were named as such.
In recent years, the Silkie has become one of the most popular show guinea pigs for competitions.
Silkie Breed Recommendation
Despite their popularity with kids, we would not recommend a Silkie for a child. However, if you're a parent that is willing to take on that responsibility, then by all means go for it. Their hair is shinier and softer than the Peruvian, so they are great for little kids to play with, just not for them to take care of.
Most of our adult friends that own a guinea pig have the Silkie. Unsurprisingly, they love their guinea pig. We'd recommend Silkies for anyone looking to develop a great relationship with their guinea pigs. They're simply a fantastic breed for any adult that has a bit of time to commit to grooming.
READ MORE: Silkie Guinea Pig – Guide to the Hollywood Cavy
Highlights: Social, Lively, Friendly.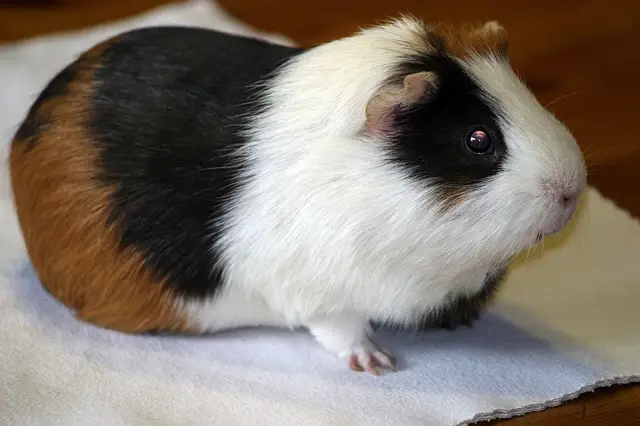 Boasting a short yet dense coat, the Teddy Guinea Pig is often described as "wiry." In other words, they have a rough and stiff coat. A Teddy's coat is the exact opposite of a Silkie's coat.
Although they're not as soft as other guinea pig breeds (think: Silkie, Peruvian), their coats are relatively easy to maintain. However, this doesn't mean no grooming at all. Occasional brushing is still necessary to remove any junk or debris stuck in their fur. And trust me, there will be junk if left unbrushed.
The reason why they're called the "teddy" is because of their uncanny resemblance to a stuffed animal – the teddy bear. Their signature characteristic is the upturned nose, which is exclusive to this breed of guinea pigs.
Regarding personality, the Teddy has one of the best temperaments among guinea pigs. Most owners will tell you that they warm up fairly quick to people, making them fantastic pets for all types of families.
Interesting Facts
Like the Skinny Pig, the Teddy was born due to a genetic mutation in breeding. Since then, they've been popular guinea pigs.
The name "Teddy" derives from the fact that they look like little teddy bears with their upturned noses.
This unique nose of the Teddy Guinea Pig is called the "roman nose."
Teddy Breed Recommendation
We would certainly recommend the Teddy Guinea Pig for children, as long as they're old enough. They're relatively low maintenance and have a charming personality that any child will fall for. Basic brushing is necessary, but kids can easily do this with the supervision of an adult. Older kids will have no problem.
Teddies are very similar to American Guinea Pigs, but with different coats. If you were looking into getting an American, we'd take a long hard look at the Teddy.
READ MORE: Teddy Guinea Pig – A Quick yet Thorough Guide
Highlights: Friendly, Elegant, Graceful.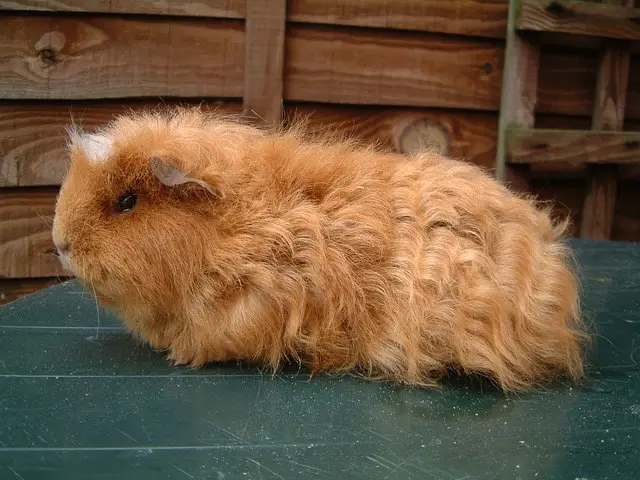 The Texel Guinea Pig is truly a remarkable breed that's sought-after by some of the biggest enthusiasts and show breeders. Texels feature curly soft hair not just apparent on their backs, but throughout the whole body – including the belly.
With such extravagant coats, they have quickly become premiere show guinea pigs with immense success. Whether at competitions or around house guests, the Texel is sure to turn some heads.
As you've probably realized, this breed is the most difficult to groom. They have beautiful wavy locks that come with both pros and cons. The latter, being a coat that's extremely prone to tangling. It can cause a lot of pain if their coats are left tangled and neglected, and you certainly don't want that.
Interesting Facts
The Texel Guinea Pig is the result of crossbreeding a Silkie and a Rex Guinea Pig. Through minor modifications, the Texel you see today was born.
Texel Guinea Pigs are sometimes referred to as the "long-haired Sheltie." It's a fitting and accurate nickname.
Texels are one of the newer guinea pig breeds. In fact, they weren't officially recognized by the American Cavy Breeders' Association until 1998.
Texel Breed Recommendation
Due to the amount of time and dedication required, we recommend the Texel Guinea Pig only for those that want to show off their guinea pigs. Or if you are prepared for plenty of grooming dedication. With the Texel, there's an expected amount of care needed. It's why they're not popular guinea pigs, especially as normal family pets.
They are especially not suitable for kids. However, they are an awesome sight to see and children usually get a kick out of interacting with a Texel.
READ MORE: Texel Guinea Pig – Origins, Features & Care
Highlights: Joyful, Loving, Easy to care for.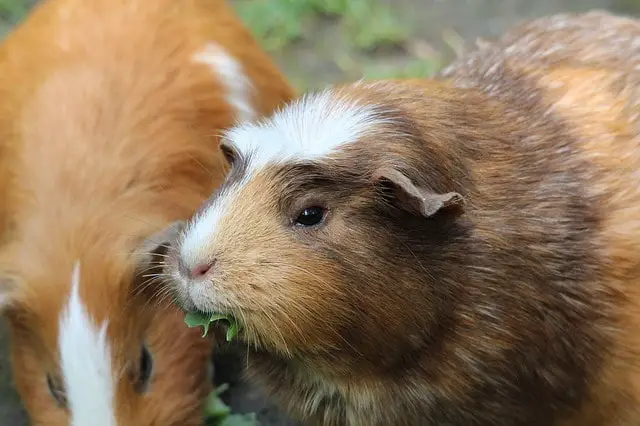 These little bundles of joy are definitely a crowd-pleaser. Other than their signature crest, they most resemble the American Guinea Pig. However, those that know can easily spot one because they look like they have a white crown above their head. Hence, the white "crested."
Shape and size are not the only traits the Whited Crested has in common with the American. They both have short smooth hair, which makes them easy to groom and great for kids to take care of.
However, unlike the American, the White Crested is a lot more difficult to find. Don't expect to walk into your local pet store and see one. More likely, you'll need to find a specialized Crestie breeder.
Interesting Facts
The White Crested comes in a range of coat types, such as: brindle, roan and agouti.
A Crestie's white crown is actually a single rosette on the top of the head. Usually rosettes come in pairs (even numbers), but not with this breed.
Although finding a White Crested is possible, finding one of show quality is extremely hard to find.
White Crested Breed Recommendation
If you've been looking to get an American, the Crestie is a fantastic option too. They're suitable for both adults and children, and make some of the best small pets. In regards to commitment, they're at the same level as the Texel or American.
If you happen to find a Whited Crested, it's a no brainer for the more casual guinea pig owners. The only downside is that you'll probably need to explain to guests that your guinea pig isn't an American breed.
Highlights: Friendly, Gentle, Calm.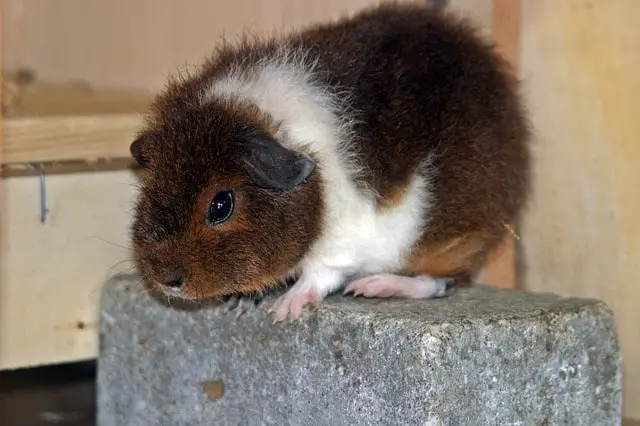 The Rex Guinea Pig is a short-haired cavy with hair no longer than 1 cm long. Most mammals have three different types of hairs, including "guard hairs." These specific hairs are used to protect the rest of the coat from any wear and excess of moisture. However, the Rex does not have guard hairs, creating a wool-like appearance.
In addition to the dense and rough coat texture, the Rex's most notable features are the long and droopy ears. In a way, they look like hedgehogs while still retaining the shape and feel of a guinea pig.
Interesting Facts
The Rex Guinea Pig is the only guinea pig without guard hairs, giving them a unique wool-like feel.
Rex Guinea Pigs comes in a variety of coat colors, including: brown, white or agouti.
Depending on the breed and environment, a Rex can live up to 6 years.
Rex Breed Recommendation
We highly recommend Rex Guinea Pigs for children. They're easy to take care of and have a charming demeanor that can put a smile on any kid's face. Because of their lack of guard hairs, the Rex has a unique texture that children seem to love.
For anyone looking to get an American Guinea Pig, the Rex should also be considered. They're the perfect lap pets and you could pet them for hours.
Highlights: Sociable, Friendly, Gentle.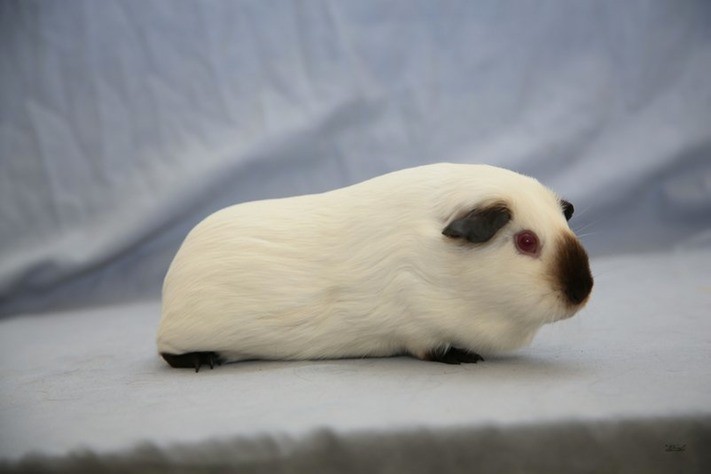 The Himalayan Guinea Pig is truly a remarkable breed and is often called the "siamese cats of guinea pigs." And despite their name, these breeds did not originate from the Himalayas (mountain range). Siamese cats are from Thailand, but the Himalayan Guinea Pig is actually from South America.
With such a nickname, you can already tell they are a special type of guinea pig. Not only are they considered albino, but they are known to have color (usually black) on their noises, feets and ears (called "points"). These guinea pigs also have red eyes.
The pigment (or color) on their body doesn't develop until they get older. When they're first born, they're just white with red eyes. Usually after a few months, the colors start to kick in.
Interesting Facts
The Himalayan was named not because of the Himalayas mountains, but because of their similar color patterns with the Himalayan (or Siamese) cat.
The points (or pigment) on a Himalayan will slowly fade if they are stressed or malnourished.
Himalayan Guinea Pigs are some of the most social guinea pigs. They play well with others.
Himalayan Breed Recommendation
These unique guinea pigs are recommended for anyone that wants to own a unique guinea pig but don't want to deal with a lot of grooming. Their short coats make them favorable guinea pigs to own – outside of the common American cavy.
Because they're albino, Himalayans should not be exposed to too much sunlight. For this reason, living in a warm climate area may not be the best for this guinea pig breed.
Highlights: Quirky, Kind, Bright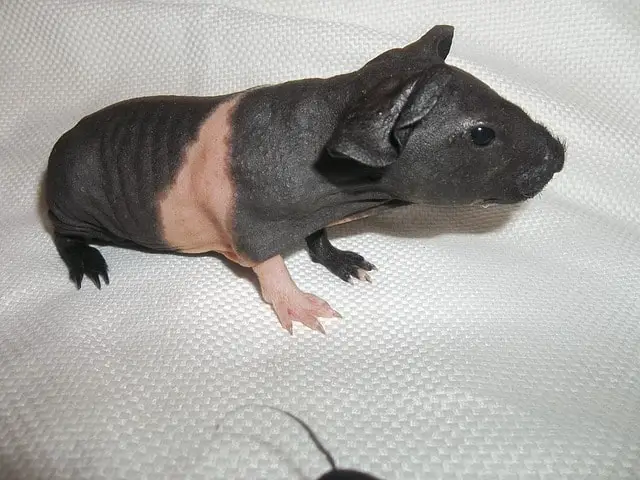 Perhaps the most unique of all the breeds, the Skinny pig is a hairless guinea pig. However, they're not completely hairless. They actually have some hair on their feet and legs, although minimal.
These guinea pigs originated in a lab guinea pig colony, where strains of short-haired and hairless guinea pigs were crossbred. The final result: a Skinny Pig.
They certainly aren't the most attractive breeds of guinea pigs, but they have similar personalities to the other breeds. Sure, many people have claimed they may be "harder to love" due to their physical appearance. However, as long as you treat them properly, they will reciprocate the love.
Interesting Facts
Skinny Pigs are always hairless guinea pigs, but hairless guinea pigs are not always Skinny Pigs. There are others, such as the Baldwin.
This breed has existed for less time than you think. They were first bred in the late 70's.
Skinnies were developed at the Charles River Laboratories to be used in dermatology studies.
Skinny Pig Breed Recommendation
We would not recommend these guinea pigs for children. Because they don't have a coat of fur, their skin is extra sensitive. Unintentional foul play could potentially hurt a Skinny. Plus, kids may not appreciate the appearance of this breed since they aren't your typical "cute" guinea pigs.
For those that can appreciate the wonderful personality of the Skinny Pig, we'd highly recommend giving them a try. If you're okay with the looks, they make fantastic pets.
READ MORE: Skinny Pigs – Guide to the Hairless Guinea Pig
Where to Find a Specific Guinea Pig Breed?
This list of guinea pig breeds are the most popular ones. However, not all of them are easy to find. The easiest way to find a guinea pig is to go to your local pet store. Major chains, such as PetCo or PetSmart do sell guinea pigs (at the time of writing), however your options are limited.
If you've been eyeing an American of Abyssinian, there's a pretty good chance you'll find one at a commercial pet store. However, for the rarer breeds, you most likely need to look elsewhere.
One of the best places to find a unique breed is by adopting one. A great resource is Guinea Pig Finder, where you can adopt one from a home. Most of them are common breeds, but from time to time you'll spot a truly unique breed.
If you're not patient, we would google breeders around you. For example "Skinny pig breeder Los Angeles" if you're looking for a Skinny living in LA. Most specialized guinea pig breeders have a website. However, due to the rarity of certain breeds, they may not always be in your area. If you really want one, you may have to travel a bit.
Guinea pig forums are also another great way to finding a specific breed. Often times, people will post pictures of their unique guinea pigs. Sign up and send those users a message and ask where they got theirs from. There may even be specialized breeders lurking around the forums.
The key is to be persistent. Keep checking forums and adoption sites and before you know it, your breed of choice may pop up.
Choosing a Guinea Pig Breed
There's no right or wrong when it comes to picking out a guinea pig breed. My recommendations are just recommendations. If you feel like a specific breed speaks to you, then by all means – go for it.
As long as you (or your child) take in proper information and commit some time to raising a guinea pig, you will have a wonderful experience.
So, don't stress too much over which to get, because they will all make great pets for you and your family. All these guinea pig breeds have warm personalities and as long as you properly take care of them, they will love you back. Happy raising and feel free to ask questions in the comment section below.